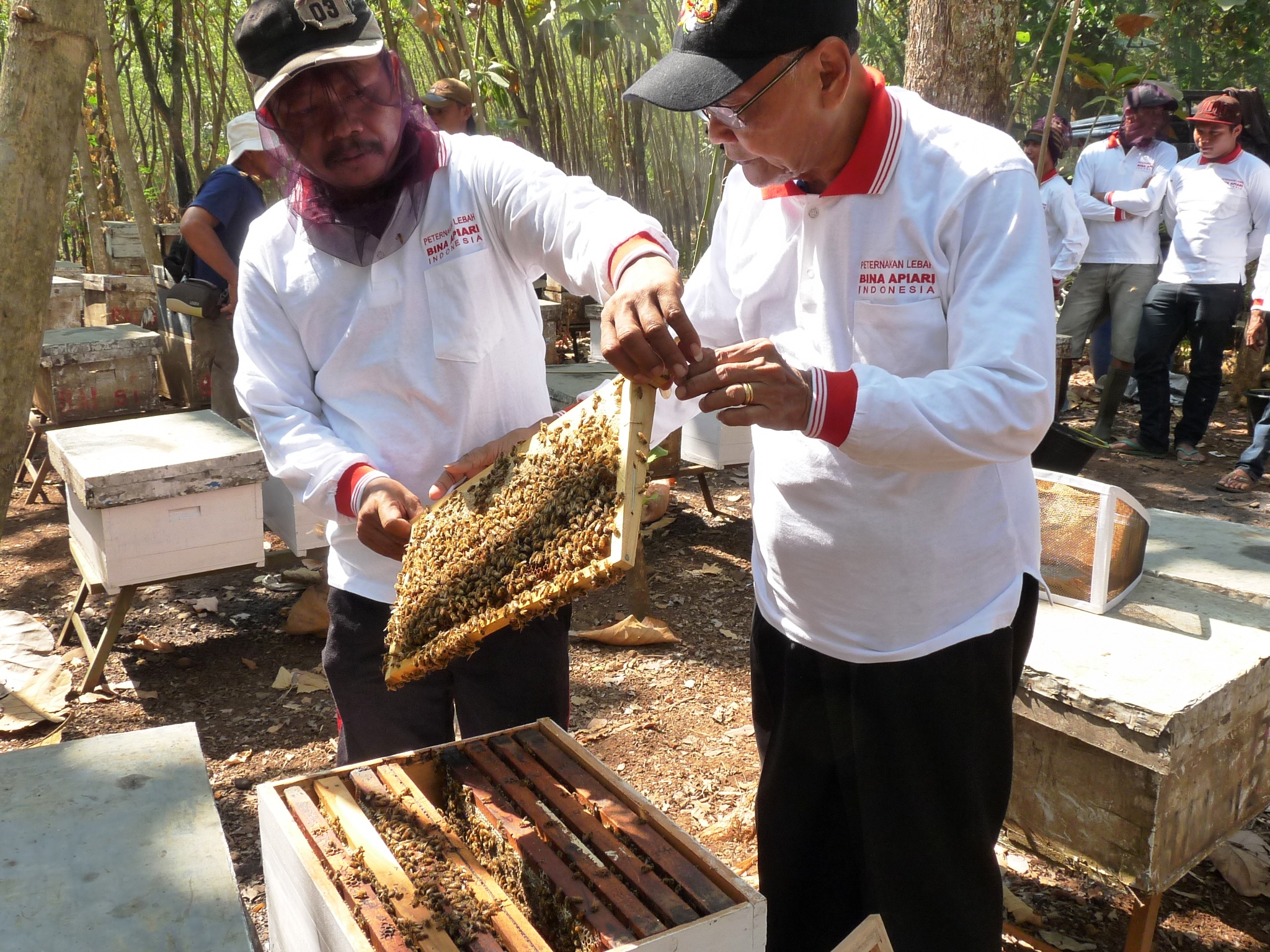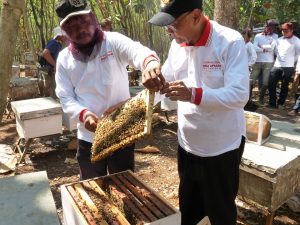 The development of beekeeping Apis mellifera in Indonesia since its introduction in 1975 relatively slow in compare with China, Vietnam and Tahiland. The main reasons are in China, Vietnam and Thailand their Government support the research and development and provide facilties to make people develop beekeeping and big private companies to develop processing industries and marketing. Small beekeepers are organized by big companies for training, funding, getting high quality Queens bee, beekeeping equipments, medicine against bee pest and varhoa, and buy their bee products, etc.
There are many big companies process the bee products into international standards, packaging, labelling and marketing for National wide market and export to other countries.
Indonesia have a huge Natural and Human resources for beekeeping. The tropical rain forests about 105 millions ha ( number 3 after Brazil and Zaire) and Mangrove forest 3,5 millions ha (No 1 in the world) , Big Estates of rubber Hive braziliensis ( 3,5 millions ha), Oil palm ( 6 millions ha), coffea, tea, coconuts, chest nut etc, Fruit gardens (manggo, rambutan, durian, orange, apple, etc.) vegetable, herbal plantations, rice, corns, soya beans etc.
The population to day is 240 millions or number 4 the biggest population in the world after China, India and USA. It is mean a big potential of man power for production o bee products with low labour cost and also potential market for bee products . The Economic growth is is 4% /year although the Global Economics are in crisis/recession. Only 3 countries in the World have are survive and have positive economics growth : China, India and Indonesia.
The honey production of indigineous honey bees Apis dorsata and Apid cerana indica now is bigger then Apis mellifera. The increasing of industrial forest plantations ( Acacia mangium, Eucalyptus spp.) and Estate plantations Palm oil and rubber ( Hivea braziliensis ) as honey plants , increase the population of Apis dorsata, and Apis cerana indica in Sumatera island .
While Apis mellifera cannot survive in this area because lack of pollen producing plants. Apis mellifera cannot harvest pollen of Palm oil trees. So we must provide pollen producing plants like corn, sorghum and Acacia auriculiformis surround Acacia mangium and rubber plantations
Facing such condition in Indonesia there are 3 options to go : (1) to develop Imported bee Apis mellifera as migratory beekeeping in in Jawa island, (2) to manage the indigeneous bees of Apis dorsata in outer islands of Jawa. and (3). to develop Apis cerana indica as "stationary beekeeping" in all villages and islands which grow coconut trees and enrich with Callliandra callothyrsus and fruit trees.
Problems why beekeeping in Indonesia develop slowly are (1).Bee keeping organization are not so strong, (2) No Big companies organize small beekeepers like in China, Thailand and Vietnam. Other reasons are :
1. Government support is weak, because beekeeping is not the Priority programme of the Government, So no enough funding provide by the Government.
2. Research and development in beekeeping are very weak, no coordinations among researchers, not enough funding for bee and beekeeping research and development.
3. Processing and marketing done by big companies without involving small beekeepers as their members. So small beekeepers develop by their own capabilities, witout support in getting funds, high Quality Queen bees, sugar for feeding bee, protect bee desease and pests (varhoa), equipments, training, and sell their products.
4. Honey bee plants scattered in small areas in Jawa island only for migratory beekeeping of Apis mellifera. So beekeepers are competing to get the best location for their bees.
5. The big areas of honey plants are available in Sumatera and other outer islands of Jawa, only suitable for Apis dorsata.
6. Aps cerana indica is suitable for stationary beekeeping of small beekeepers in all villages and islands which grow a lot of coconut trees as pollen resource
Constraints face to develop migratory beekeeping of Apis mellifera because Indonesia consists of 17,503 islands and separated by sea . So migration of Apis mellifera between islands are expensive and difficult. Developing indigeneous bees Apis dorsata and stationary beekeeping Apis cerana indica much better for the moment being.
For long term development we plan to develop "Integrated Bee Farming" with sweet sorghum as pollen producer and Calliandra callothyrsus as nectar producer. Sweet sorghum will provide pollen for bees from the flowers, seeds for human food, animal feed or bio etanol, leaf for cattle feeding to produce meat and milk, and stalk for bio etanol industries. So Apis mellifera, Apis cerana indica and Apis dorsata can be developed at all places in Indonesia and increase bee products honey, bee pollen/beebread, royal jelly, bee wax, propolis and bee venom.
Apitherapy with bee products and bee sting will be promoted in cooperation with IAHBS (In ternational Apitherapy, Health, and Bee products Society), Apitherapy movement will help beekeepers and people to be healthy and wealthy, The people living in the remute villages and islands will survive with Apitherapy and stationary beekeeping of Apis cerana indica and honey hunting of Apis dorsata
Tree planting movement with be plants of Acacia mangium, Calliandra callothyrsus, Sweet sorghum, Acacia auriciliformis, Rubber ( Hivea brazilliensis ), palm oil , and developing " Integrated Bee Farms" will increase the production of bee products ( honey, bee pollen/beebread, royal jelly, propolis, bee wax and bee venom ), increase healthy and wealthy of beekeepers and people and safe our planet from Global warming and Climate Change !!!
*) Ir. Bambang Soekartiko :
– Owner of " Bina Apiari Indonesia "
– Former President of Apimondia Commission " Beekeeping for Developing Countries" ( 1983-1993).
( Now " Beekeeping for Rural Development" under President of Commission DR Nicola Bredbear )
– Vice President of API Indonesia (Indonesian Beekeepers Association) , 2000-2013
– Webb site : www.binaapiari.com
– www.madubinaapiari.co.id
– Email :[email protected]
– Phone/fax : +62-21-78830046
– Mobile : + 62-811826546
– Address : Jl. Raya Pertanian III No 84 Pasar Minggu, Jakarta, Indonesia. 12520
Kembali ke halaman berita utama