The Miracle Of Enzyme:
Home
•
The Miracle Of Enzyme:
MENGAPA KITA PERLU ENZIM?
Published byVilian, at Monday, July 06th , 2015 - 08:12:10 AM, in Bee Pollen category. Hati-hati jika Anda atau kerabat mengalami gejala-gejala di atas. Kemungkinan besar itu adalah tanda kekurangan enzim dalam tubuh. Tubuh yang kurang enzim rentan terhadap penyakit. Dalam tahap tertentu dapat menyebabkan gangguan sangat serius, seperti stroke, gangguan pencernaan yang parah, kegemukan, arthritis, kanker, dll. Pada anak usia pertumbuhan, kekurangan enzim bisa menimbulkan kemandekan berat badan dan kurang gizi...
VALUE-ADDED PRODUCTS FROM BEEKEEPING...11
Published byVilian, at Monday, August 03rd , 2015 - 10:07:34 AM, in English Articles category. 3.12.6 Pollen supplements and substitutes in beekeepingHaydak (1967) successfully tested a soybean flour, dried brewer's yeast and dry skimmed milk mixture in the proportions of 3:1:1. As a pollen substitute fed to honeybee colonies during a period of shortage, the mixture stimulated early colony development and overcame pesticide damage. One kilogramme of this substitute should be mixed with 2 litres of a concentrated sugar syrup in order to make it attractive to the bees. The sugar syrup is mixed in proportions of 2 parts granulated sugar with 1 part of hot water. A few egg yolks can be added as well and the mixture should be left standing overnight. The final consistency should be such that the paste stays on top of the frames, preferably wrapped in wax paper to prevent it from drying out...
FIT SEHARIAN DENGAN BEE POLLEN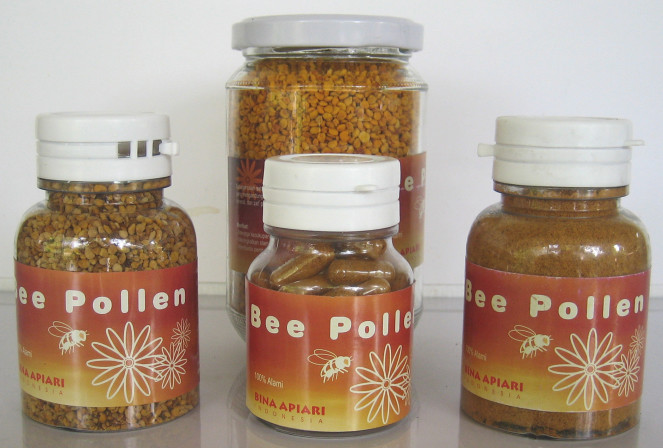 Published byVilian, at Friday, August 07th , 2015 - 09:49:41 AM, in Bee Pollen category. Selain itu bee pollen juga merupakan sumber serat. Zat non gizi ini bermanfaat untuk mengatasi sembelit. Serat diperlukan untuk membentuk feses menjadi lunak dan bervolume besar sehingga lebih mudah dikeluarkan. Feses membawa keluar racun dan sisa-sisa pencernaan. Buang air besar yang lancar dan teratur setiap hari dapat menjaga tubuh fit, kulit menjadi bersih dan halus, mencegah kolesterol tinggi dan kanker...
VALUE-ADDED PRODUCTS FROM BEEKEEPING...10
Published byVilian, at Sunday, August 02nd , 2015 - 10:05:33 AM, in English Articles category. The following ingredients (by piece per 50 g. of oats) can be mixed according to taste and availability:2FigsOr1 tablespChopped chocolate½Banana4Dried apricots½Apple½Apple2 teaspGround almonds1 tablesp Soybeans (toasted or boiled)1 tablespSunflower seeds11 tablespRaisins1 tablespRaisins5Dates1 tablespChopped nuts..
FERTILITY AND APITHERAPY
Published byVilian, at Wednesday, August 05th , 2015 - 08:48:33 AM, in Apiterapi category. My personal theory about this is that the outer membrane of my ova had become hardened, and the bee venom made the membrane more permeable to sperm. We don't know for sure, but the bee venom may well have done the job for us. I would certainly try it again if I had similar problems in the future!..
VALUE-ADDED PRODUCTS FROM BEEKEEPING...12
Published byVilian, at Tuesday, August 04th , 2015 - 10:09:04 AM, in English Articles category. There are small, manually operated capsule fillers available for just a few dollars. Medium-size machines, which can fill 500 to 1000 capsules per hour can be made by a precision workshop (see Figure 3.10 and Annex 2). ..
VALUE-ADDED PRODUCTS FROM BEEKEEPING...9
Published byVilian, at Saturday, August 01st , 2015 - 10:03:02 AM, in Bee Pollen category. Heat the honey, butter and water in a heavy skillet. Cook rapidly and stir constantly for about 10 minutes or until the mixture reaches the hard-crack stage (1500C). Add the nuts and larvae quickly and pour into a buttered pan or slab or pour the syrup over the nuts on a buttered slab. When almost cool, sprinkle with pollen powder (or crushed pollen pellets) and brush with the melted chocolate. Before the chocolate hardens, dust with the finely chopped nuts, larvae or pollen. After cooling, break into pieces and wrap individually...
HOW TO USE ROYAL JELLY TO REDUCE INFERTILITY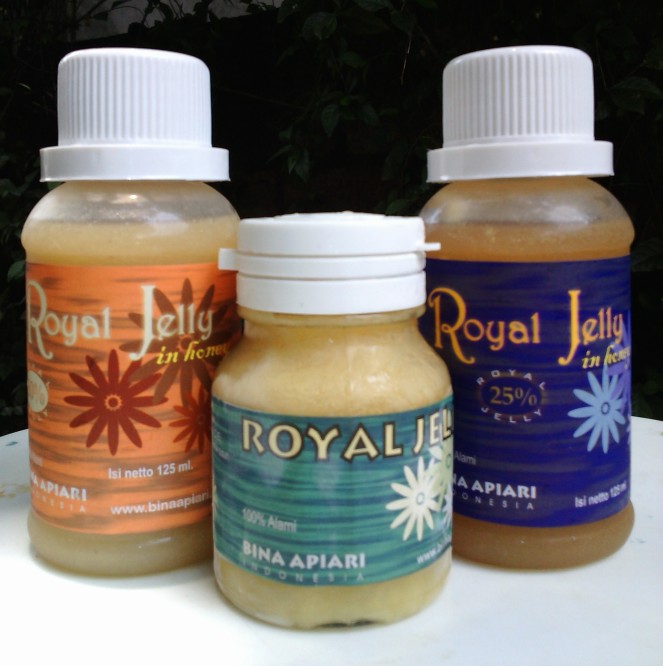 Published byVilian, at Thursday, August 06th , 2015 - 09:32:10 AM, in English Articles category. Supplements help develop fertility. Deficiency in nutrients or undernourishment is the basis of infertility, so better nourishment should be the starting point for treatment of several illnesses, as well as infertility. Royal Jelly is more than probably the leader of the group. These nutrient thick essences are secretion that comes from bees, and is utilized not just to produce a queen bee for reproduction, but also provide food for other bees for their optimal healthiness...