Nyeri Kerongkongan:
Jantung Rematik / Demam Rematik (ASTO positif) vs Propolis
Published byVilian, at Friday, December 25th , 2015 - 10:43:31 AM, in Harga Madu Asli Lebah category. Terimakasih banyak kepada Tuhan & bina apiari, karena melalui propolis cair dan madu Bina Apiari, penyakit saya sembuh total. Kiranya semakin banyak masyarakat Indonesia yg sehat dengan mengkonsumsi propolis cair dan madu...
VALUE-ADDED PRODUCTS FROM BEEKEEPING...11
Published byVilian, at Monday, August 03rd , 2015 - 10:07:34 AM, in English Articles category. 3.12.6 Pollen supplements and substitutes in beekeepingHaydak (1967) successfully tested a soybean flour, dried brewer's yeast and dry skimmed milk mixture in the proportions of 3:1:1. As a pollen substitute fed to honeybee colonies during a period of shortage, the mixture stimulated early colony development and overcame pesticide damage. One kilogramme of this substitute should be mixed with 2 litres of a concentrated sugar syrup in order to make it attractive to the bees. The sugar syrup is mixed in proportions of 2 parts granulated sugar with 1 part of hot water. A few egg yolks can be added as well and the mixture should be left standing overnight. The final consistency should be such that the paste stays on top of the frames, preferably wrapped in wax paper to prevent it from drying out...
VALUE-ADDED PRODUCTS FROM BEEKEEPING...9
Published byVilian, at Saturday, August 01st , 2015 - 10:03:02 AM, in Bee Pollen category. Previous Article http://madubinaapiari.co.id/value-added-products-from-beekeeping-8/..
VALUE-ADDED PRODUCTS FROM BEEKEEPING...12
Published byVilian, at Tuesday, August 04th , 2015 - 10:09:04 AM, in English Articles category. 3.12.8 Pills and capsulesThe best profit margin for selling pollen appears to be in selling it pill form. As mentioned earlier, the value of 1 kg of pollen pills or capsules can reach US$900 as compared to US$1 11-30 for 1 kg of dried pollen in the same stores. This enormous price margin cannot be achieved everywhere, but reflects a consumer attitude that exists in some countries.In order to process pollen into pills a simple machine is necessary, which even second hand may cost a few thousand dollars. A paste of pollen and honey is prepared for pressing. No additives are necessary but gum arabic or a little pulverized wax can be incorporated. Coating the pills with wax render them non-allergenic, i.e. preventing contact with mucous membranes. If no pill press is available, more gum arabic or other gel and wax mixtures should then be used so that pills can be formed individually (see also 5.16.5)...
FERTILITY AND APITHERAPY
Published byVilian, at Wednesday, August 05th , 2015 - 08:48:33 AM, in Apiterapi category. I met Bensenville, Illinois acupuncturist and apitherapy practitioner Betty Yates in July of 2000. I had experienced unexplained infertility for about 10 months, and the gung-ho specialist that Jeremy, my husband of three years, and I had just consulted wanted to forge ahead into exploratory surgery and/or an intense drug regimen; for me, it was too much too soon...
VALUE-ADDED PRODUCTS FROM BEEKEEPING...8
Published byVilian, at Friday, July 31st , 2015 - 10:21:39 AM, in Bee Pollen category. Preheat the oven to 150 0C. Scatter the rolled grains on a baking sheet or pan and toast for 15 minutes in the oven, stirring frequently. Slowly heat the oil and honey and add the remaining ingredients. Then combine with the toasted grains and spread thinly in the pan, continuing to toast in the oven and stirring frequently for another 15 minutes or until the ingredients are toasted...
HOW TO USE ROYAL JELLY TO REDUCE INFERTILITY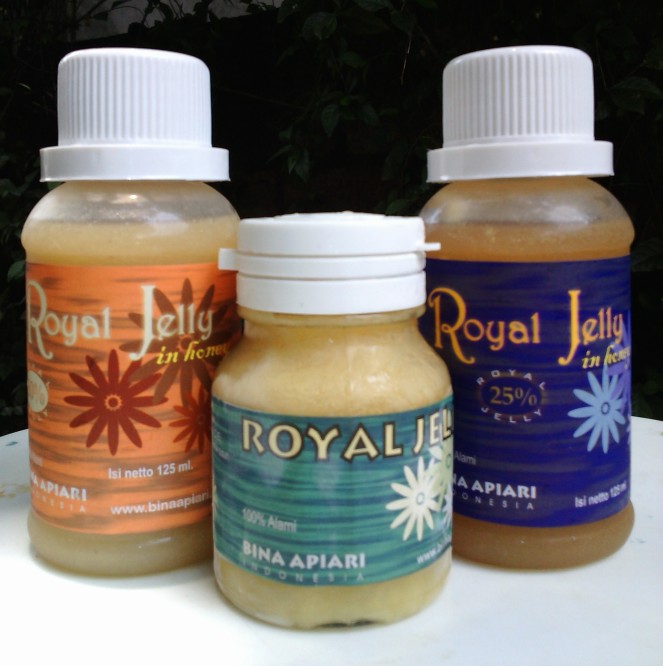 Published byVilian, at Thursday, August 06th , 2015 - 09:32:10 AM, in English Articles category. It is also essential to pharmaceutical companies, particularly those that specialize in the manufacturing of dietary supplements, in addition to companies that manufacture drugs that deal with fertility difficulties...
VALUE-ADDED PRODUCTS FROM BEEKEEPING...10
Published byVilian, at Sunday, August 02nd , 2015 - 10:05:33 AM, in English Articles category. Cereal-fruit barThe following two recipes (adapted from Dany, 1988) preserve all the nutritious values which might otherwise be destroyed through heating in the previous preparations. The baking described in the granola and candy bar recipes is replaced by drying at temperatures of 40 to 45 0C. This also facilitates processing for those who do not have access to baking stoves...