Mdu:
DIABETES BOLEH MINUM MADU ?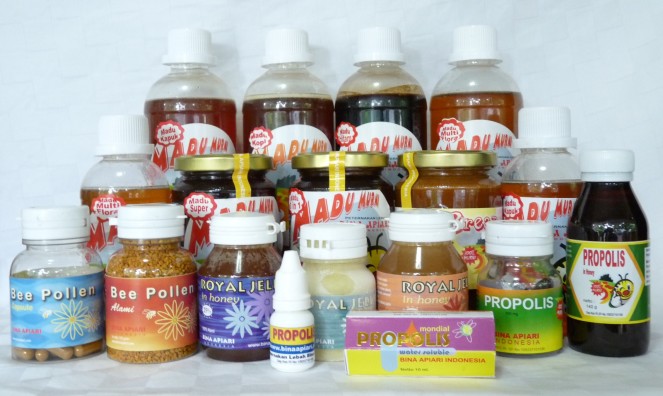 Published byVilian, at Sunday, August 16th , 2015 - 08:36:27 AM, in Kesehatan category. Selain madu, royal jelly dan propolis juga membantu mengatasi diabetes :..
VALUE-ADDED PRODUCTS FROM BEEKEEPING...11
Published byVilian, at Monday, August 03rd , 2015 - 10:07:34 AM, in English Articles category. 3.12.6 Pollen supplements and substitutes in beekeepingHaydak (1967) successfully tested a soybean flour, dried brewer's yeast and dry skimmed milk mixture in the proportions of 3:1:1. As a pollen substitute fed to honeybee colonies during a period of shortage, the mixture stimulated early colony development and overcame pesticide damage. One kilogramme of this substitute should be mixed with 2 litres of a concentrated sugar syrup in order to make it attractive to the bees. The sugar syrup is mixed in proportions of 2 parts granulated sugar with 1 part of hot water. A few egg yolks can be added as well and the mixture should be left standing overnight. The final consistency should be such that the paste stays on top of the frames, preferably wrapped in wax paper to prevent it from drying out...
FERTILITY AND APITHERAPY
Published byVilian, at Wednesday, August 05th , 2015 - 08:48:33 AM, in Apiterapi category. I had read that acupuncture had helped some couples achieve their dream of parenthood, and this natural approach appealed to me in spite of my background in clinical medicine. When I met Betty, she mentioned that she hoped eventually to treat me with bee venom. It had helped her daughter, who had suffered endometriosis-related infertility for 18 years, to conceive and bear a robust son. It sounded scary, but by comparison, the heartbreak and frustration of continued monthly failure would have been much more painful...
VALUE-ADDED PRODUCTS FROM BEEKEEPING...9
Published byVilian, at Saturday, August 01st , 2015 - 10:03:02 AM, in Bee Pollen category. In order to form even-sized bars or round shapes, pour the syrup into buttered moulds. Before completely cooled, these bars can be dipped in melted chocolate and sprinkled with any of the above materials for decoration. For special care with chocolate coatings, see also recipes in Chapter 2...
VALUE-ADDED PRODUCTS FROM BEEKEEPING...10
Published byVilian, at Sunday, August 02nd , 2015 - 10:05:33 AM, in English Articles category. Drying:Slow drying at low temperatures is recommended. In a warm room, in an opened solar drier or in the direct sun, the mixture should be covered with a cloth to exclude flies, bees, dust and other contaminations. In an oven, the temperature should not exceed 50 0C with a door left partly open.The fruit and nut mixtures will keep for a couple of weeks but the vegetable mixture should be consumed as soon as possible. Individual bars can be wrapped in waxed paper or plastic foil approved for food use...
VALUE-ADDED PRODUCTS FROM BEEKEEPING...8
Published byVilian, at Friday, July 31st , 2015 - 10:21:39 AM, in Bee Pollen category. Granola barsTo make granola bars, the same granola mixture should be pressed into the preferred shape after the first toasting. The second toasting is then completed at a slightly lower temperature and over a longer period of time. If sufficient honey is used, the hot mixture can be pressed into oiled forms also just before the toasting is finished, when the granola is still moist and sticky...
VALUE-ADDED PRODUCTS FROM BEEKEEPING...12
Published byVilian, at Tuesday, August 04th , 2015 - 10:09:04 AM, in English Articles category. For small enterprises, a more economical and feasible way of marketing dried pollen pellets for human consumption is by encapsulation. Gelatine capsules of 0 or 00 size are filled with the dried pollen. If the filling is conducted carefully, little or no pollen should be left on the outside, where it could cause harm. Extra cleaning may be required and a warning about possible allergic reactions should be printed on the label...
HOW TO USE ROYAL JELLY TO REDUCE INFERTILITY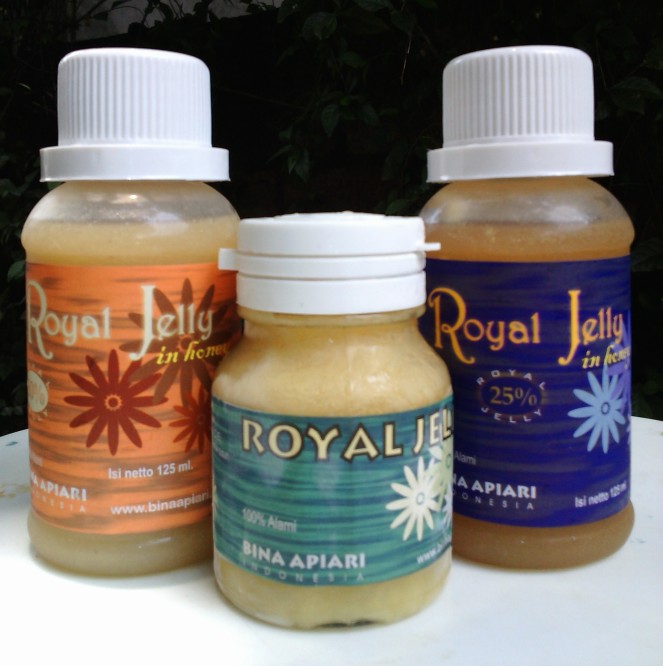 Published byVilian, at Thursday, August 06th , 2015 - 09:32:10 AM, in English Articles category. Regular intake of premium Royal Jelly has been proven to facilitate in regulating hormones. This makes it valuable to those persons that experience hormonal discrepancy, as it facilitates to give assistance to the endocrine system. It can furthermore help in dealing with other conflicts that are connected to hormonal imbalance, like polycystic ovarian disorder. Several investigations have proven that Royal Jelly has the tendency to imitate human estrogen, which can give assistance to those individuals that suffer from low estrogen quantity...