Arahidonat:
Aspek Gizi Asam Lemak Esensial
Published byVilian, at Sunday, July 05th , 2015 - 09:31:45 AM, in Umum category. FAO (Food and Agriculture Organization) menganjurkan agar asam lemak esensial dikonsumsi sedikitnya sebanyak 3% dari total energi yang dikonsumsi, baik untuk anak maupun orang dewasa. Selama masa kehamilan dan menyusui, FAO merekomondasikan masing-masing sebanyak 4,5 dan 5-7% dari total energi yang dikonsumsi. Asam lemak esensial termasuk sejumlah kecil asam lemak esensial berantai panjang, terdapat 8% dari jumlah energi yang terkandung dalam air susu ibu (ASI). Karena itu idealnya susu pengganti ibu harus mengandung asam lemak esensisal sebanyak yang terdapat dalam ASI. ..
Lebah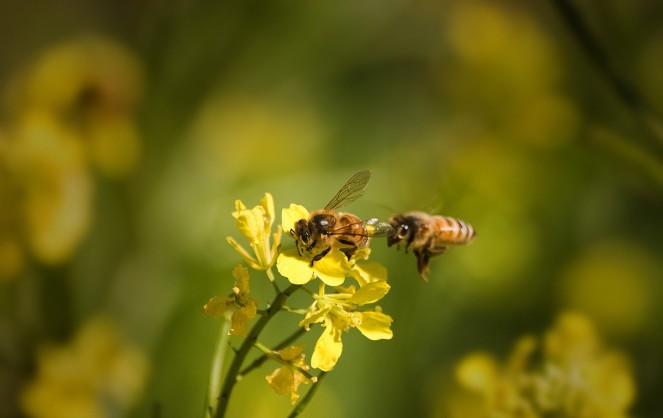 Published byVilian, at Saturday, August 08th , 2015 - 08:16:51 AM, in Lebah category. Jika Anda ingin mendapatkan khasiat atau manfaat yang optimal dari produk-produk yang dihasilkan oleh lebah, pastikan Anda mendapatkannya dari peternakan lebah yang terpercaya. Kombinasikan keempat jenis produk di atas untuk manfaat yang lebih optimal. Produk-produk perlebahan akan bersinergi (bekerjasama untuk menghasilkan manfaat yang lebih besar) jika dikonsumsi bersamaan...
FIT SEHARIAN DENGAN BEE POLLEN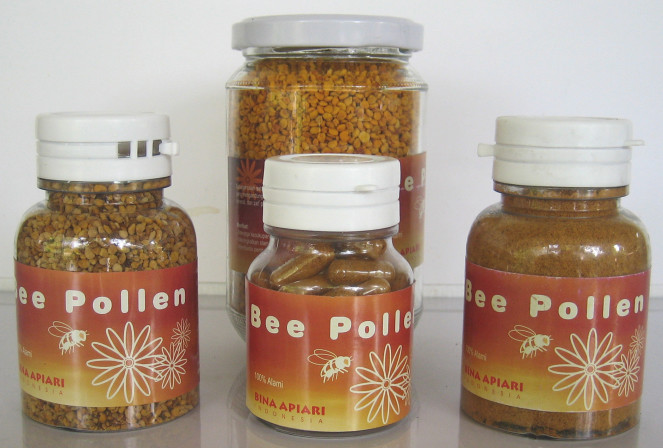 Published byVilian, at Friday, August 07th , 2015 - 09:49:41 AM, in Bee Pollen category. Lebah mengumpulkan pollen dalam jumlah yang lebih besar daripada kebutuhan koloninya. Itu sebabnya peternak lebah dapat memanen kelebihan pollen tersebut. Setelah dipanen, bee pollen segar perlu dijemur atau dikeringkan untuk menurunkan kadar airnya supaya lebih dapat disimpan dalam jangka waktu lama. ..
VALUE-ADDED PRODUCTS FROM BEEKEEPING...10
Published byVilian, at Sunday, August 02nd , 2015 - 10:05:33 AM, in English Articles category. Basic Ingredients (in parts by volume):4Rolled oats1Boiled water or fruit juice0.2Vegetable oil or fat0.2Dry yeast (brewers yeast, bakers yeast or other)0.6-1.2Pollen extractq.s.Salt..
HOW TO USE ROYAL JELLY TO REDUCE INFERTILITY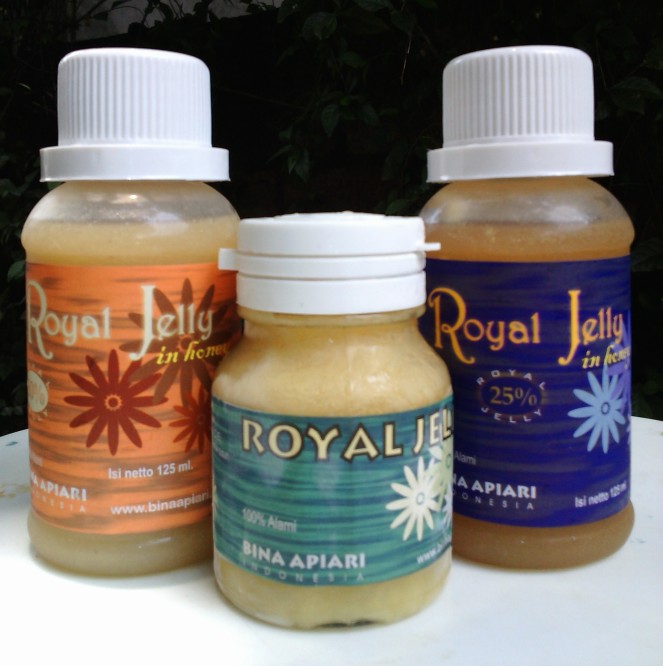 Published byVilian, at Thursday, August 06th , 2015 - 09:32:10 AM, in English Articles category. When we get older occasionally we really get hindered in the furrow. We perform in jobs we don't have enthusiasm anymore and we feel the physical tension of not having enough exercise or nourishment. Most of the time the dietary insufficiency has a lot to do with conception and folic acid is typically suggested for women to support during the process of their pregnancy. For men they need this to increase their sperm count...
FERTILITY AND APITHERAPY
Published byVilian, at Wednesday, August 05th , 2015 - 08:48:33 AM, in Apiterapi category. Betty V. Yates, Licensed AcupuncturistBensenville, Illinois..
VALUE-ADDED PRODUCTS FROM BEEKEEPING...11
Published byVilian, at Monday, August 03rd , 2015 - 10:07:34 AM, in English Articles category. 3.12.7 CosmeticsThe claims attributed to the cosmetic effects of pollen have not been proven nor do pollen-based products seem to outperform alternative non-allergenic products. Given the risk to a growing percentage of allergic customers, it is not possible to recommend use of pollen in commercial products. If one wants to include pollen in personal cosmetics, the pollen pellets should be well dried and carefully ground to a very fine powder. They are likely to remain slightly abrasive, but can be ground further. The powder is mixed without heating at 1 % or less into any preferred preparation. Some alcoholic extracts, appear to cause no allergic reactions. Unfortunately, nothing is known about their effectiveness. For recipes see Chapter 9...
VALUE-ADDED PRODUCTS FROM BEEKEEPING...12
Published byVilian, at Tuesday, August 04th , 2015 - 10:09:04 AM, in English Articles category. For small enterprises, a more economical and feasible way of marketing dried pollen pellets for human consumption is by encapsulation. Gelatine capsules of 0 or 00 size are filled with the dried pollen. If the filling is conducted carefully, little or no pollen should be left on the outside, where it could cause harm. Extra cleaning may be required and a warning about possible allergic reactions should be printed on the label...